BrixenCard
Double savings with the BrixenCard

The entire holiday region is included in the price of your stay!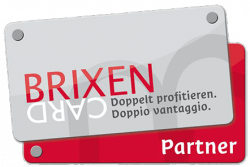 We are the right choice for you: A holiday in a BrixenCard member operation is now twice as convenient. You pay your room rate - and the entire holiday region is open to you! Farm holidays in South Tyrol
Bressanone and its holiday villages have plenty to offer. If you wish to discover most of it, then our house is the best choice for you. Our accommodation rate includes the BrixenCard - free of charge - and we immediately hand it to you on your arrival. It allows you to experience the highlights of our holiday region - and enjoy public transport, cultural offers and other activities free of charge!
The BrixenCard advantages at a glance:
Double saving - double pleasure!
Fun excursions with public transport: You may use all public means of the South Tyrolean transport system - regional trains to Trento, buses, city buses, public cable cars - free of charge.
Mount Plose:
Daily free return ticket on the cable car to Mount Plose.
Hiking adventures:
Enjoy the full hiking program of the Tourist Office in Bressanone.
Leisure activities:
Daily (except on Sundays and public holidays) free admission to the largest fun pool in South Tyrol, Acquarena, in the centre of Bressanone.
Cultural highlights:
Expect an extensive cultural offer with guided tours of Bressanone and various events organised by the tourist office.
Museums:
The BrixenCard entitles you to free admission to 82 South Tyrolean museums, such as the Diocesan Museum in Bressanone, the Pharmacy Museum in Bressanone, the Monastery in Novacella, the Archaeological Museum with Ötzi, the Mining Museum Monteneve, the Messner Mountain Museum Firmiano, the Folklore Museum, the Castle Trostburg and many others.
Discounts with many BrixenCard Advantage Partners:
You will get special discounts on a variety of recreational activities such as mountain biking, bowling, and more.
Family-friendly:
Your children will also receive a BrixenCard. For an even better farm holiday experience!